News
---
2021-03-22
Link to the conference concert
Please find below the link to the conference concert (YouTube), that was performed today as a closing of the first day of MPaR'21/IWoMCDM'21 conference: https://www.youtube.com/watch?v=49OeqzukiTI.

---
2021-03-21
Last changes in the workshop's program
We made some changes in the workshop's program, due to some cancellations. The latest version of the program may be downloaded from the link: Program_MPaR21_IWoMCDM21_v10a_21032021.pdf or viewed directly on the website in "Program" section.

---
2021-03-17
Links to virtual sessions
Please find below the list of session rooms set up for MPaR and IWoMCDM with the accompanying links to their web-addresses in Google Meet:
The list can be downloaded in pdf from the following link:
Nawigacja_konferencyjna_Workshop_navigation_v2_16032021.pdf
.

---
2021-03-15
Google Meet as IWoMCDM'21 online meeting software
We are pleased to announce that IWoMCDM sessions will be conducted via Google Meet. Each session will be assigned to a virtual room with a unique web address. Below you may find the short user guide on how to use Google Meet for workshop purposes:
On Friday, March 19, we will open a testing room for anyone who wishes to practice joining the session and delivering the presentation. Two moderated sessions are going to be organized under the following link -
https://meet.google.com/kgf-bgqm-fct
:
session 1: March 19, 15:00-16:30 CET,
session 2: March 19, 19:00-20:30 CET.

---
2021-03-03
Special issue of the Entropy journal open to IWoMCDM'21 papers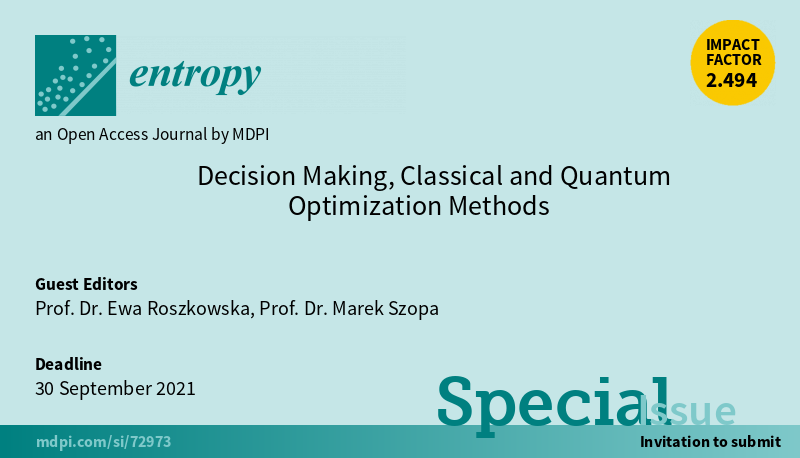 It is our pleasure to inform all IWoMCDM participants about the possibility to publish conference papers in a special issue of the Entropy journal. Entropy belongs to the MDPI group of open access journals. The publications submitted must be convergent with the special issue topic, which is: "Decision Making, Classical and Quantum Optimization Methods". More information on the special issue and its subject can be found at https://mdpi.com/si/72973.
The regular price for the publication in Entropy is 1800 CHF. However, some reductions were negotiated for the submissions of the IWoMCDM participants:
early submission before 30 June - 300 CHF reduction on APC,
late submission before 30 August - 200 CHF reduction on APC.

---
2021-02-11
Updated conference flyer
New changes in the publication fee due date make us release the latest version of the conference flyer that can be downloaded from the following link: IWoMCDM_MPaR_21_v4.pdf.

---
2021-02-01
Registration deadline extended
We have extended the deadline for papers submissions to February 21st. Do not forget to register using our registration website.
The notifications on papers' acceptance will be send to participants by March 1st.

---